About Us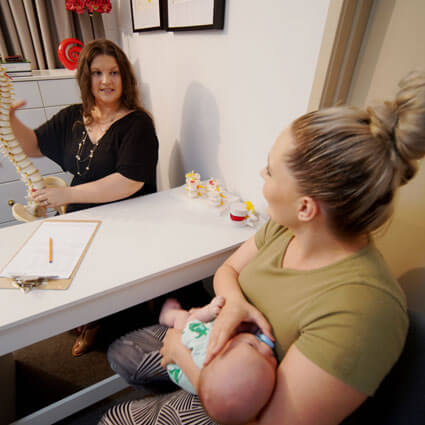 Passionate about enhancing the overall health and wellbeing of our community! At Rhapsody's Chiropractic and Wellness, Dr Estelle Oertel (Chiropractor) is passionate about providing natural healthcare to people of all ages.
My mission is to serve the Sunnyhills and Half Moon Bay, East Auckland community with an open heart and patient-centered approach to care."
The Story Behind Our Practice Name
'Rhapsody' in music refers to a piece of music that has no formal structure and expresses powerful feelings. When Estelle read about the meaning of the word, she knew she wanted to incorporate the name into her practice and have a person-orientated focus at its centre.
Once Estelle started drawing the name in a logo form and saw what it looked like, it brought to mind the feeling that everyone is welcome here. "It doesn't matter who you are or what you want to get out of chiropractic; I'm here for everyone," said Estelle.
Providing Tailored, Drug-Free Care
As each of our practice members is different, Estelle offers customised chiropractic care plans for every person. From helping kids with a sports injury to older seniors and all ages in between, Estelle loves caring for the community. While she has had great success getting many people out of pain, Estelle is passionate about assisting those who are seeking to achieve wellness.
MEET DR ESTELLE
Types of Practice Members We See
Estelle has considerable experience caring for people across the spectrum. Here are some of the practice members we see:
Adults
Babies
Children
Pregnant women
Seniors
Athletes
Wellness
Dancers
A Special Interest in Helping Dancers
As she's danced for thirty years, Estelle has a particular focus on assisting dancers. She understands the biomechanics of movement patterns and forces that dancers undergo during training and dance performances. "I believe that chiropractic can be a great source of support to dancers from a biomechanical aspect and pain relief during times of injury," added Estelle.
Get Started Today
Discover how noninvasive chiropractic care may help you get out pain and allow you to have a higher quality of life. Contact us today to book an appointment!

About Rhapsody's Chiropractic and Wellness | 09 217 3693