Activator Methods®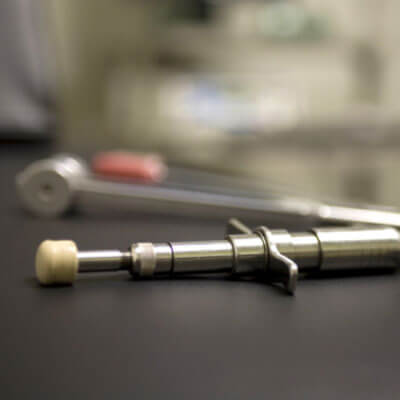 Whether you've been a chiropractic patient for many years or have never seen a chiropractor before, you likely have an idea of what you like or don't like when it comes to being adjusted. Many people feel concerned about having a traditional, manual style of adjustment. If that sounds like you, know that our team have the skills to accommodate you at Rhapsody's Chiropractic and Wellness.
Activator Methods® is used around the world. It's a gentle, low-force approach that is extremely popular with people from all walks of life.
A Handheld, Spring-Loaded Instrument
The Activator instrument is unlike any other within chiropractic. It's been the subject of extensive studies, with results having been published in peer-reviewed journals. It was designed to be an extremely specific yet low force. When you feel the light touch of the Activator, you might wonder, "Is that actually doing anything?"
The force applied when using the activator is both precise and sufficient at the correct setting to perform the adjustment at a particular level.
When Activator Is Used
You don't have to present with a certain type of problem for our chiropractor to use the Activator in your adjustments. It's something that anyone is allowed to request. In certain cases, it may be clinically more appropriate to use an Activator rather than a manual technique. If that is the case, our chiropractor will discuss it with you.
Most often, the Activator is used on our older patients, particularly those with osteoporosis. We have clients well into their 90s who come to our clinic for Activator adjustments. It's also a great choice for younger children.
A Precise Healing Protocol
When the Activator is used, a unique protocol is involved. That means there are specific steps followed, depending on the type of adjustment you need. The overall goal is to improve your alignment, posture and balance. Our chiropractor will adjust the levels that show up in the protocol performed with every session. Your nervous system is ready and able to communicate since the body is a self-healing, self-regulating mechanism.
With the Activator protocol and technique, you may get the adjustment you require to enjoy better health.
Call Now
Contact Rhapsody's Chiropractic and Wellness today to book in for your first appointment!

Activator Methods® Chiropractor Sunnyhills, Half Moon Bay, East Auckland, Mount Wellington, East Tamaki AUK | 09 217 3693