Chiropractic Care for Children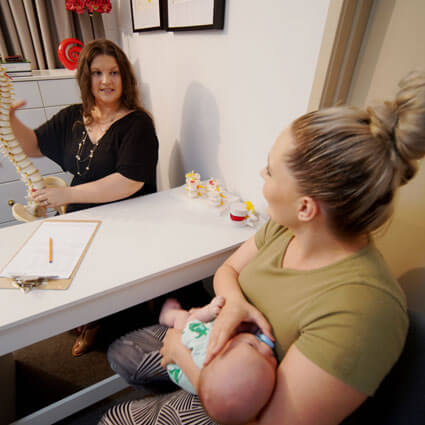 You may be wondering why children could benefit from chiropractic care. Many people associate chiropractic with back pain or neck pain. While chiropractic does indeed address those issues, it also may have considerable benefits for children of all ages.
What Is Chiropractic for Children?
Chiropractic care for babies, children and teens involves the use of gentle chiropractic adjustments. Because the nervous system controls every function in the body, it's essential for children to get off to an excellent start in life by maximising that function.
How Chiropractic May Benefit Children
From interventions such as forceps to the pressure applied as a baby comes through the narrow birth canal, newborns may experience some degree of trauma or nerve damage.
That's why we believe it's essential to have kids checked through a non-invasive chiropractic evaluation. We want to help potentially prevent some of the common issues that plague children as they go through the developmental growth phases.
Beginning with the trauma of the birth process, children may experience hundreds of additional injuries in the first decade of their lives. Such accidents include falls while learning to walk, bicycle crashes, sports-related injuries, blows to the head, broken bones and sprained ankles.
What to Expect
One of the first things you'll see when you bring your child into the practice is our fun kids' area. We feature plenty of engaging brain games to keep them busy before their appointment.
When you make your child's booking, you will receive an email with a link to complete the details on a fillable form. After completing, you will send the form directly to Dr Estelle Oertel (Chiropractor). We do everything electronically, so that Estelle can spend more time with you and your child.
Please have your child wear comfortable clothing to their appointment.
Estelle will tell parents that she is going to look at their child's brain and nervous system and how all of that is working and she will ask them a few questions. She might do a few tests, followed by several adjustments if they feel okay with it. If your child doesn't want to get adjusted, that's okay, too. Estelle always wants children to have a positive experience, so they will want to return.
Frequently Asked Questions
At what age should I bring my child in for care?
Although we believe that children of all ages can benefit from chiropractic, we feel that it's vital to get children checked as soon after birth as possible. The first few years of life are dedicated to establishing the foundation for optimal communication between the brain and the body.
How will you adjust my child?

The adjustments performed on the spines of babies and children are significantly modified to those used on an adult. The best way to explain the amount of pressure used to perform an adjustment on a child is to compare it to the gentle pressure you would apply to test a tomato for ripeness.
Are adjustments painful?

Most kids find adjustments comfortable. Please know that Estelle uses special gentle techniques on children to ensure they are as comfortable as possible. If your child feels uncomfortable in any way, we stop and can revisit at the next visit.
Do you see teens?

Yes, we see many teens who can benefit from chiropractic. Given how much time teenagers spend on digital devices, they can often develop posture problems. Chiropractic care can help address such issues.
Schedule an Appointment Today
We love providing chiropractic care for babies, children and teens in our warm and friendly practice. Estelle looks forward to meeting you and your little ones soon.
Contact Rhapsody's Chiropractic and Wellness today to schedule an appointment for chiropractic care for children!

Children's Chiropractor Sunnyhills, Half Moon Bay, East Auckland, Mount Wellington, East Tamaki AUK | 09 217 3693