Chiropractic for Sports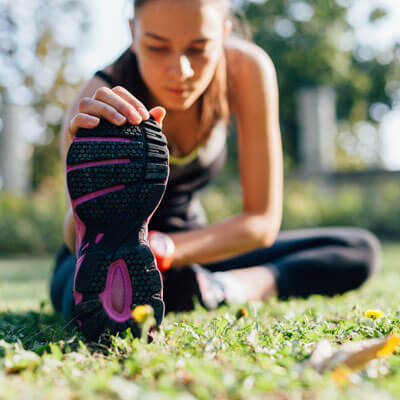 At Rhapsody's Chiropractic and Wellness, we love working with patients of all ages and walks of life-and that includes athletes of every skill level. These include everyone from youngsters playing middle or high school sports to professional athletes. If an injury has sidelined you or you simply want to elevate your body to function at its best, we're here to help with advanced techniques and modalities. The best part? It's all 100% natural.
Services and Techniques for Athletes
We understand that even the most experienced athlete is susceptible to injury. That's why Dr Estelle Oertel (Chiropractor) is well-versed in providing non-invasive, drug-free chiropractic care when you need it most.
Some of our modalities include the following:
Sports Chiropractic – consists of focused adjusting for athletes
Kinesio Taping — supports the recovery process
Personalised Stretches – customised to meet your unique needs
Postural Analysis – helps us identify and correct any posture abnormalities
Athletes We Work With
We're proud to welcome athletes from all sports and walks of life to give care with us a try. We've worked with everyone from professional cricket players to power lifters and motocross racers and beyond. Whether you're a weekend warrior, dabble in rec-league sports or play at the professional level, we're here for you.
A particular interest in helping dancers
During Estelle's many years of dancing, she has noted the effects different movements can have on a dancer's posture and joint health. The feet, ankles, knees, hips, shoulders, elbows and wrists all can be affected.
During the initial consultation process, Estelle learns in detail from the patient the particulars surrounding the injury. She will find out which parts of the spine and extremities are involved and determine if any additional testing would be required. Such testing includes X-rays.
Then, Estelle can recommend an individualised adjustment program that is uniquely tailored to the dancer's spine and nervous system.
Read more about chiropractic care for dancers!
Frequently Asked Questions
How will I know if I can be helped?
We pride ourselves on diving deep to uncover your issues to first get you proper diagnosis. Then, we'll let you know if we believe you're a candidate for care. Please know that we'll never force care on you-with us, your needs will always come first-plus, we aim to make you an active partner in your care.
Will I need to come forever to get adjusted to maintain results?

Your care is entirely up to you. Our goal is to bring you out of pain, restore function and then help you maintain those results-but we do it differently than other offices. We know you lead busy lives and focus on instilling 'spinal hygiene' in our patients.
We'll provide you with spinal care tips, exercises, stretches and more that you can build into your life to reduce the likelihood of injuries recurring-all from the comfort of your home. Some patients choose to see us for maintenance care on whatever schedule fits their needs-be it once every few weeks or each month. When you need us, we'll be here.
Do you offer help for heel pain?

Yes! We see a number of athletes and non-athletes dealing with heel pain, often caused by plantar fasciitis. Pain in the foot can be related to subluxations in the foot, but also any of the joints in the spine and pelvis. Estelle will test for subluxations in the feet, ankles, knees, hips and spine and adjust as per protocols that are taught at New Zealand College of Chiropractic. She can perform myofascial release and trigger point therapy to the muscles in the foot and lower leg that may be helpful.
Book an Appointment
If you're an athlete or dancer, you may be able to benefit from our natural care. Contact our Sunnyhills clinic today to schedule an appointment!

Sports Chiropractor Sunnyhills, Half Moon Bay, East Auckland, Mount Wellington, East Tamaki AUK | 09 217 3693