Thompson Technique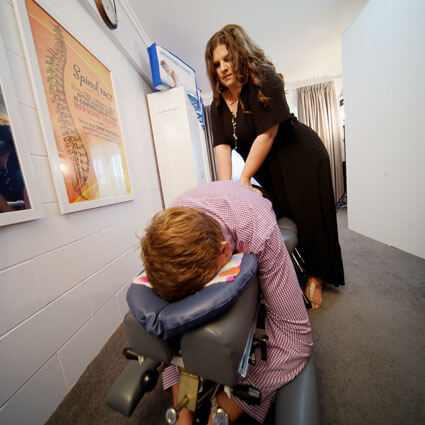 When it comes to chiropractic care, precision is essential. At Rhapsody's Chiropractic and Wellness, we utilize highly accurate techniques that are designed to pinpoint your individual problem. One of Dr Estelle Oertel's (Chiropractor) main techniques is called Thompson. It is a gentle, manual technique while being extremely specific, making it a highly effective choice for many of our clients.
An Easy, Drop Table-Based Adjustment
The Thompson Technique involves a science-based, specific protocol when it comes to treatment. It involves using less force for the adjustment thanks to a piece that drops away from the table. You'll receive the same effectiveness as a typical manual adjustment but enjoy a gentler touch to your adjustment. And many of our patients enjoy that there are usually no audible noises involved in the adjustments with the Thompson Technique.
Plus, there isn't as much need for rotation when it comes to your neck adjustments. That's great news for people who feel concerned about having their neck adjusted.
Our Advanced Adjusting Equipment
Along with our full-size drop table, we provide a smaller form of drop table named an X-Drop that can be used to adjust extremities such as feet and ankles. They are great for getting into tricker angles such as shoulder, hips, and ribs, allowing a gentler adjustment than what may be achieved with the bigger table at the time.
Having these many tools in our toolbox means we can address your full-body needs. This drop piece can also provide more effective adjustments for sufferers of headaches, chronic stiffness and pain, and various types of injury.
Who This Technique Works Well For
There is a range of different situations that the Thompson Technique can be applied to. Thompson technique can be the technique of choice for a lot of people and can provide great comfort in receiving adjustments during pregnancy.
When it comes to pregnancy, you want to make sure you're comfortable. Our drop table has a specific section that drops away, allowing space for your pregnant belly, and together with lying on one of our pregnancy adjustment pillows, you can lie on your stomach well into your ninth month of pregnancy.
Learn More Today
If you'd like to discover whether chiropractic is right for you, contact Rhapsody's Chiropractic and Wellness today!

Thompson Technique Chiropractor Sunnyhills, Half Moon Bay, East Auckland, Mount Wellington, East Tamaki AUK | 09 217 3693